OPTIMUS 4

Copyright 2007 by Ross Gaehring

Ross G. Gaehring

ALL RIGHTS RESERVED

No part of this book may be reproduced or transmitted in any form or by any means, electronic or mechanical, including photocopying, recording, or by any information storage and retrieval system, without permission in writing from the author, except in the case of brief quotations embodied in reviews.



Cover Art:
Kelly Kabell

Publisher's Note:

This is a work of fiction. All names, characters, places, and events are the work of the author's imagination. Any resemblance to real persons, places, or events is coincidental.



Published by Ross Gaehring - Optimus 4

Copyright 2014
Ross Gaehring


Thanks to my Lord, for giving me the inspiration to write Optimus 4, and to my beautiful wife Susan and children Ashley, Anthony, Ryan and Byran for their loving support, without which this novel could not have been completed.

In a real dark night of the soul it is always three o'clock in the morning, day after day.
--- F. Scott Fitzgerald

Let's pray that the human race never escapes Earth to spread its iniquity elsewhere.
--- C.S. Lewis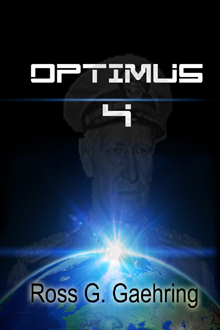 Read the first three chapters here. The chapter 3 file also contains the sources and notes for Optimus 4.